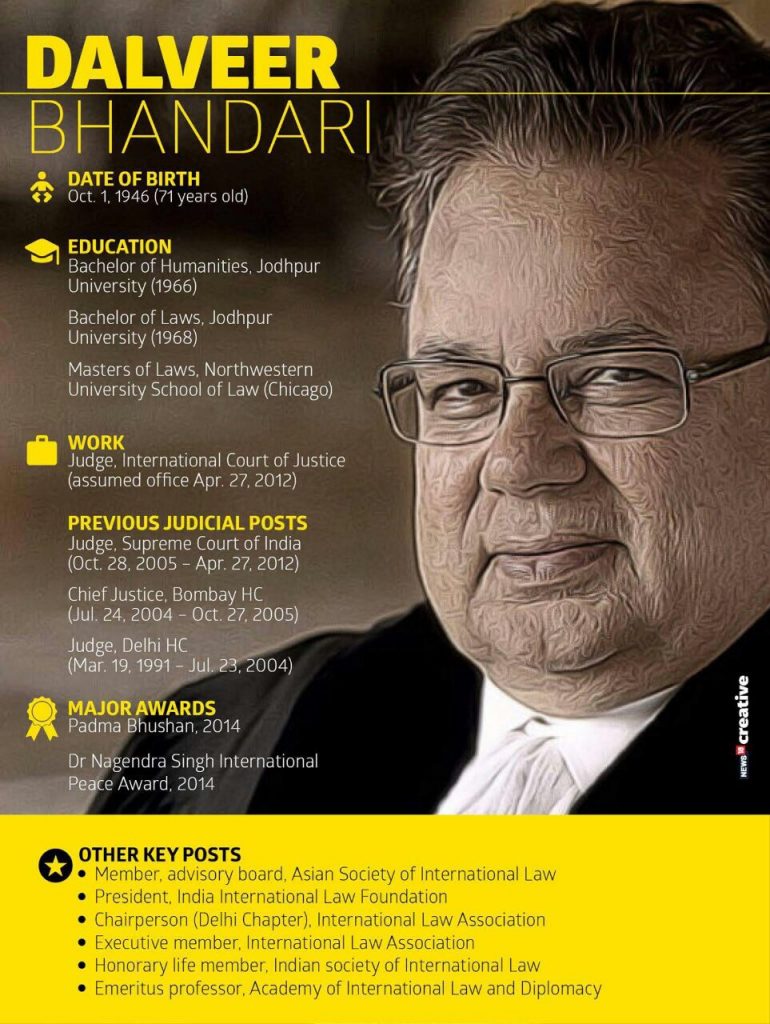 Justice Dalveer Bhandari was re-elected as a judge at the International Court of Justice (ICJ) overnight Tuesday, making him the third Indian to secure a prominent position in a United Nations (UN) body in recent months.
International law expert Neeru Chadha was elected to the UN body, the International Tribunal for the Law of the Sea (ITLOS), in Hamburg in June. And last month, Soumya Swaminathan, director general of the Indian Council of Medical Research (ICMR), was appointed deputy director general for programmes at the World Health Organization (WHO) in Geneva.
Other Indians in key positions in the UN system include former diplomat Lakshmi Puri who is assistant secretary-general for Intergovernmental Support and Strategic Partnerships at the United Nations Entity for Gender Equality and the Empowerment of Women. Another former Indian diplomat Atul Khare is currently the UN Under-Secretary-General for Field Support.
Bhandari, 70, was declared elected for a fresh term at the ICJ after Britain withdrew its candidate Christopher Greenwood late on Monday with more than two-thirds of the UN General Assembly members backing the Indian candidate. He received 183 of the 193 votes in the General Assembly and secured all 15 votes in the Security Council to fill the final vacancy on the ICJ.
The election was a hard fought battle—eleven rounds of balloting were held with Bhandari winning in the General Assembly and Greenwood in the Security Council vote.
"It is for the first time that a candidate from a permanent member of the UN Security Council (P-5) has not found a seat at the ICJ," said a person familiar with the development. "The scale of the victory shows that India had support cutting across geographical regions," the person said, adding: "It shows the will of the General Assembly prevailed over that of the Security Council" where the British candidate had support, the person added.
Read more at Mint here: http://www.livemint.com/Politics/QvrbeHEeODM65jPm0mHfIJ/Dalveer-Bhandari-reelected-to-International-Court-of-Justic.html