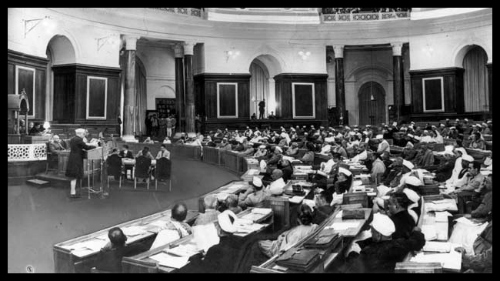 "26 November 2017, is officially the third Constitution Day in Indian history. In 2015, the Bharatiya Janata Party (BJP) led government at the centre declared 26 November as Constitution Day by a 19 November gazette notification.
The day was earlier commemorated as National Law Day, after a resolution by the Supreme Court Bar Association, a lawyers' body, in 1979.
However, the importance of the day goes back a little longer.
Sixty-seven years ago, on 26 November 1949, the Constitution of India was adopted.
The draft of the Constitution prepared by the drafting committee under B.R. Ambedkar's aegis was approved and accepted on this day. The Constitution Day was also a tribute to Ambedkar, according to last year's government notification."
Read more in Mint here: http://www.livemint.com/Politics/mh1a35rg3TMv3Tp832exaJ/What-is-Constitution-Day.html
Press Trust of India reports that "The National Law Day-2017 will be celebrated jointly by the Law Commission of India and NITI Aayog on 25th-26th November at Vigyan Bhawan in the capital. President Shri Ram Nath Kovind will inaugurate the event on 25th November while the Prime Minister Shri Narendra Modi will deliver the Valedictory Address on 26th November. The significance of the event lies in the fact that the Constitution of India was adopted by the Constituent Assembly on 26th November, 1949."
You can read the full schedule of the event here: http://pibphoto.nic.in/documents/rlink/2017/nov/p2017112403.pdf